BEST POSTER COMPETITION AWARD FOR IBG STUDENT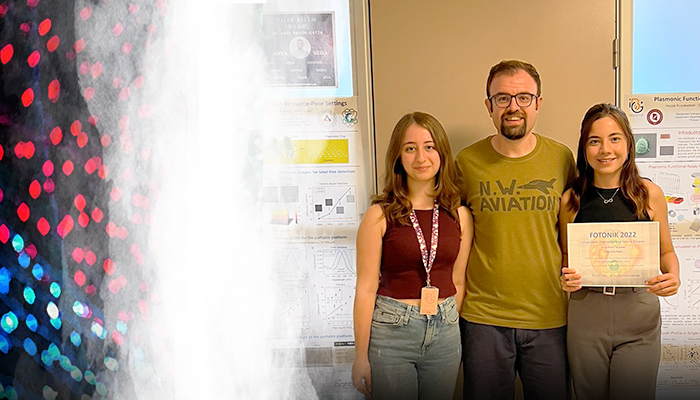 Hezzal KÜÇÜKSELBES from Cetin Lab at IBG was awarded the third prize in the "Best Poster Competition" at FOTONİK 2022.
Hezzal KÜÇÜKSELBES, who works as a graduate student at the IBG Nanophotonics and Biodetection Systems Laboratory led by Arif Engin ÇETIN, participated in the National Optics, Electro-Optics and Photonics Workshop (FOTONİK 2022). She was awarded the third prize in the Best Poster Competition with her project titled "Plasmonic Functional Assay Platform for Measuring Cell Growth".
The technology developed in this study could calculate the growth rates of cells only in 10 minutes to determine the growth profiles of cell populations. The platform could detect heterogeneity within the growth profile of populations, as well as subpopulations with different growth profiles.
This platform, which can determine cell growth kinetics with small sample volumes within a very short time compared to the classical methods, open doors for personalized drug therapy selection for cancer patients.
As the IBG family, we sincerely congratulate our student and wish her continued success.