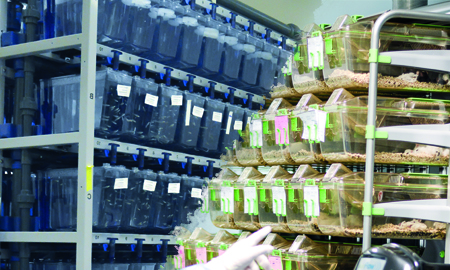 IBG-Vivarium provides researchers with animal models in basic and translational research in areas including, regenerative medicine, cancer, drug screening, metabolism diseases and artificial organ development in accordance with the highest international and local animal welfare standards.
IBG-Vivarium houses a zebra fish and an individually-ventilated-cage mouse unit. In the animal housing and husbandry, with the animal welfare and physiological needs being a priority, standard of isolation microenvironment conditions have been established for experimental procedures. In June 2015, a laboratory work permit for the production, use, and supply of lab animals have been obtained from The Ministry of Food, Agriculture, and Livestock of Turkey.
With its modern infrastructure, high animal capacity and competent staff, IBG Vivarium aims to become a leader entity in laboratory animals in Turkey and the East Mediterranean Region.
MOUSE FACILITY
All cage systems used in the mouse unit are composed of individually ventilated cages (IVC). This system includes the feed of HEPA filtered air and the filtration of the exhaust air that has been in contact with the animals. This enables a standard microenvironment condition for all cages.
Transgenic Mouse Models
IBG Gene Targeting and Transgenic Models platform provides services to researchers who need genetically modified mouse models. Please visit platform webpage for further details.
ZEBRAFISH FACILITY
An automated filtration aquarium system is used , providing required standart environment for rearing and housing of zebrafish. Zebrafish facility also has a micromanipulation unit used for microinjections.
Our services:
Anesthetic Apparatus
Class 2A Biosafety Cabin
Operation Equipment
Procedure Room (4012)
Procedure Room (4013)
Stereo Microscope
Surgery Set
Technical Support
Reservation