BLOOD AS LIQUID BIOPSY FOR IMPROVED DIAGNOSIS AND PROGNOSIS OF FOLLICULAR LYMPHOMA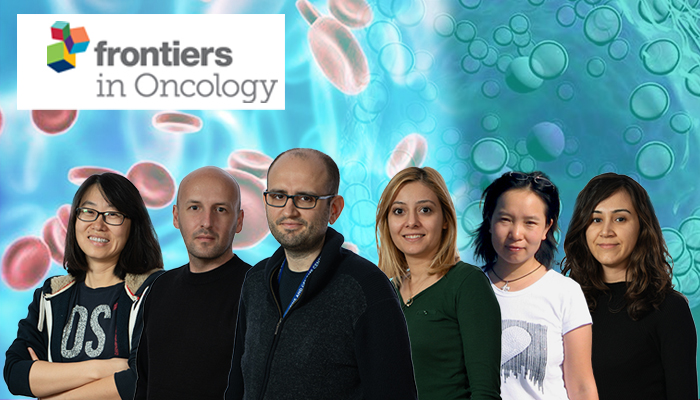 Researchers from the Lymphoid Cancer Genomics Lab at IBG and their collaborators published their findings on the investigation of somatic mutations in circulating cell-free DNA (cfDNA) of follicular lymphoma (FL) patients in Frontiers in Oncology.
FL is the second most frequent B cell non-Hodgkin lymphoma with a heterogeneous clinical course. It may undergo histological transformation to aggressive B cell lymphoma types with poor prognosis. Diagnosis and prognosis of FL requires characterization of tumor biopsies obtained through invasive methodologies which are associated with many disadvantages including but not limited to pain felt by the patients. It was observed in certain other cancer types that cancer-associated, somatic mutations present in plasma cfDNA from blood tissues can be used to improve diagnostic and prognostic evaluation.
Assoc. Prof. Can Küçük, research group leader of the Lymphoid Cancer Genomics Lab at IBG, his group members Tevfik Hatipoğlu, Esra Esmeray Sönmez, Dr. Xiaozhou Hu, Dr. Hongling Yuan, Dr. Burcu Akman together with their collaborators, Prof. Dr. Mehmet Ali Özcan, Prof. Dr. İnci Alacacıoğlu, Prof. Dr. Sermin Özkal, Assoc. Prof. Dr. Ayça Erşen Danyeli, Dr. Ahmet Şeyhanlı, Dr. Aybüke Olgun from Dokuz Eylül University and Assist. Prof. Dr. Tuğba Önal-Süzek from Muğla Sıtkı Koçman University, investigated the presence of somatic mutations in cfDNA from the plasma of peripheral blood samples obtained from treatment – naive FL patients. In this study, ultra-deep next-generation sequencing and computational bioinformatics analyses were performed to identify the cancer and prognosis-associated mutations in FL cfDNA. This study, which was supported by the TUBITAK 1001 program, revealed that high plasma cfDNA concentrations and the presence of BCL2 mutations can predict poor survival of FL. It, also, showed that oncogenic mutations may be detected in FL cfDNA, which may guide the targeted therapy. Another interesting finding of this study was the observation of histological transformation-associated gene mutations present only in plasma cfDNA.
In conclusion, these observations indicate that, as a minimal invasive liquid biopsy method,,peripheral blood cfDNA analyses may potentially improve the diagnosis, and predict prognosis such that appropriate therapies can be applied in a timely manner.