DR. ÇETİN ALİ DÖNMEZ AND PROF. DR. GÖKHAN HOTAMIŞLIGİL VISITED IBG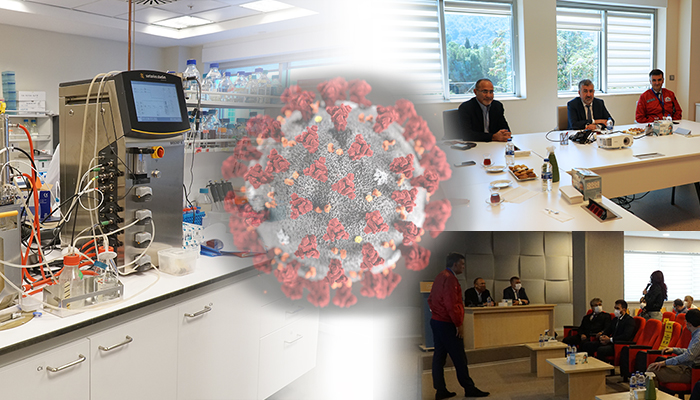 Dr. Çetin Ali Dönmez, Deputy Minister of Republic Of Turkey Ministry of Industry and Technology, and Prof.Dr. Gökhan Hotamışlıgil, member of IBG Advisory Board, visited IBG and obtained information on the ongoing activities of IBG on 25th of September.
Vsitors, who were welcomed by Chair of the IBG Board and Acting Director Prof. Dr. Ahmet YOZGATLIGİL and Platform Leader of IBG-Farma and Pharmaceutical Analysis and Control Laboratories Prof. Dr. Mehmet İNAN, received information about the infrastructure, scientific and industrial activities of IBG.
Visitors, first, met with IBG researchers at Aziz Sancar Auditorium. During this meeting, Prof. Dr. Mehmet İnan made a presentation about IBG. They, then, visited the Drug Analysis and Control Laboratories that have received Turkey's first GLP certificate and perform internationally valid pre-clinical drug analysis tests, laboratories that are being prepared for GMP qualification and IBG Bio-Pharma laboratories, in which some of IBG's Covid19 drug and vaccine development experiments are continuing. The directors and researchers of these laboratories answered the questions of Dr. Dönmez and Prof. Hotamışlıgil.
We would like to thank Dr. Çetin Ali Dönmez and Prof. Dr. Gökhan Hotamışlıgil for their visit.