First Animal Tests for the Coronavirus Vaccination Gave Positive Results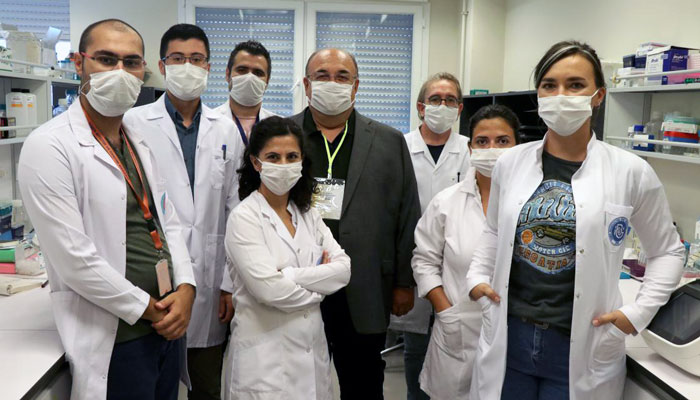 IBG Director Prof. Dr. Ozturk stated that they have obtained positive results from the laboratory experiments and animal testing in relation to the work conducted on vaccination, prophylactic and medicinal drugs during the Covid-19 process.
İzmir Biyotıp ve Genom Merkezi (İBG) Müdürü Prof. Dr. Mehmet Öztürk, merkez olarak yeni tip koronavirüs (Kovid-19) sürecinde aşı, profilaktik ve tedavi edici ilaç üzerinde çalışmalarını sürdürdüklerini, tasarım ve üretim aşamalarını tamamlamış oldukları her iki üründe de laboratuvar ve hayvan deneyleri açısından olumlu sonuçlar aldıklarını söyledi.
Öztürk, Sanayi ve Teknoloji Bakanlığının desteğiyle TÜBİTAK öncülüğünde ve bazı üniversitelerin de katılımıyla COVID-19 Ulusal Aşı ve İlaç Platformu'nun kurulduğunu, İBG'nin aşı ve ilaç geliştirme çalışmalarına mart ayında başladığını söyledi.
Platformun 2 amacının olduğunu belirten Öztürk, "Birisi Kovid-19'a karşı koruma amaçlı aşı geliştirmek diğeri ise hasta olan bireyleri tedavi edici ilaçlar geliştirmek. Biz İBG olarak her iki projede de yer alıyoruz. Amaçlarımızdan birisi, ucuz bir teknoloji ve hızlı sonuç veren bir yöntem kullanarak bir aşı geliştirmek." dedi.
Öztürk, üzerinde çalıştıkları aşı ve tedavi edici ilacın İBG'nin projesi olduğunu, TÜBİTAK'ın desteklediği kritik aşamalarda diğer üniversitelerle iş birliği yaptıklarını aktardı.
Rekombinant bir aşı üzerinde çalışmalarına devam ettiklerini dile getiren Öztürk, şunları kaydetti:
"Klasik yöntemlerden farklı. Virüsün tamamını değil de çok kritik olan bir bölgesini hedefleyen bir aşı. Bu çalışmada şimdiye kadar aşı olarak seçtiğimiz ürünü maya hücreleri kullanarak yeterli miktarda üretebildik ve saflaştırabildik. Bunun gerçekten aşı olarak etkin olabilmesi için hayvanlara enjekte edildiğinde antikor yanıtı oluşturması gerekiyor. İlk şart bu. Bu deneylerimiz geçen hafta tamamlandı. Ve hayvanlarımızın çoğunda güçlü antikor yanıtı oluşturduğunu gördük. İkinci koşul, bu oluşan antikor yanıtının virüsün hücreleri enfekte etme potansiyelini engelleyebilmesi. Henüz o testleri gerçekleştirmedik ama şimdiye kadar ki çalışmaların olumlu sonuçlar verdiğini söyleyebiliriz. Bundan sonraki aşamada nötralizasyon dediğimiz deneyleri yapmamız gerekiyor."
2021 başında gönüllülerde uygulanacak
Öztürk, daha sonra rekombinant teknik kullanılarak üretilecek aşı ve ilaç adayının doğrudan gönüllü ve sağlıklı kişilerde test etme imkanı olacağını, bunu da 2021 başında gerçekleştirmeyi planladıklarını aktardı.
Sources:
Hürriyet
,
Sabah