HYBRID 10TH OF NOVEMBER IBG SCIENCE DAY DRAWS INTEREST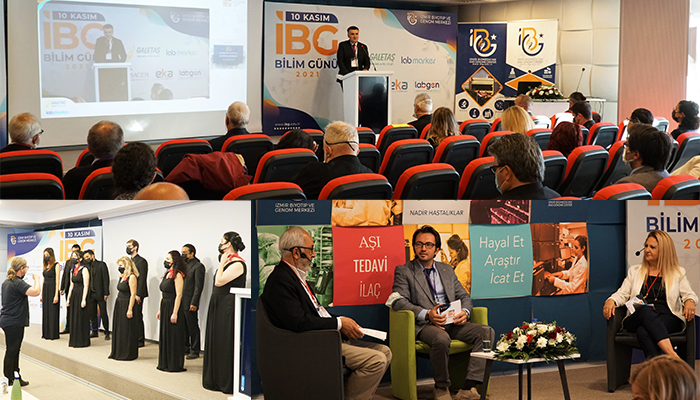 Our traditional "10th of November IBG Science Day", organised each year to commemorate the founder of the republic Gazi Mustafa Kemal Atatürk with science, was held with a hybrid format, allowing science lovers to come together at IBG and online.
The event, held live at Izmir Biomedicine and Genome Center's Aziz Sancar Auditorium, was attended by esteemed participants and guests, and it was also streamed live on IBG's YouTube channel, which gave the chance for many other viewers to watch the event from their offices, homes and schools.
On this significant day realised thanks to the devoted work of the IBG Management and 10th of November IBG Science Day Event Committee as well as the valuable support of our participants, we commemorated Atatürk on the 83rd anniversary with the never-ending thrill of science. We enjoyed the day to the full together with our viewers who joined us online.
Due to great interest, the recording of the event will be kept on our IBG YouTube channel, so that science lovers can access it from the following link whenever they want.
As the IBG family, we would like to extend our deep gratitude to Prof. Dr. İhsan GÜRSEL for his presentation on the locally developed Covid-19 vaccine, Prof. Dr. İhsan SOLAROĞLU for his presentation on the significance of Translational Medicine, Dr. Muazzez İlmiye ÇIĞ for her wonderful talk, Prof. Dr. Mustafa ÇETİNER for telling us about the philosophy of curiosity with his presentation "Being a Science Society", Prof. Dr. Semra HIZ, Prof. Dr. Uğur ÖZBEK and Dr. Yavuz OKTAY for their unmissable panel on rare diseases, Dr. Ali ERTÜRK, Prof. Dr. Emre YAKŞİ and Doç. Dr. Nurhan ÖZLÜ for their scientific presentations, A Capella Gramofon for their recital, IBG Chair of the Board and Acting Director Prof. Dr. Ahmet YOZGATLIGİL, IBG Research Programmes Committee and the organisation committee.
We would also like to thank our sponsors Galetaş, Lab Marker, Sacem, Eka, LabGen, Zeiss, MedSan Tek, İMTE, Triogen and YNZ Group.
We hope to see you on 10 November 2022 IBG Science Day!