IBG Becomes the "Shield" of DEU Clinicians and Healthcare Providers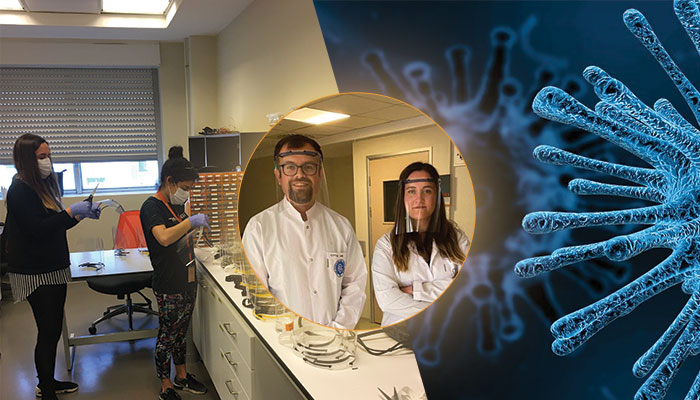 With the lead of Dr. Arif Engin Çetin, we are producing face shields in our lab using 3D Printing techniques in just 29 minutes. We have made 48 face shields for Dokuz Eylul University (DEU) hospital and 55 for the other organisations so far.
During the Covid-19 outbreak, thousands of healthcare providers and laboratory researchers are working round the clock in our country. It is highly essential to make sure that they work in safe conditions, and that safety supplies are accessible to them all the time. A group at IBG has volunteered in this effort via designing and producing face shields in their laboratory.
Face shields, when used with the face masks, are critical tools to avoid the contamination of healthcare providers with the virus while examining and treating patients. It is important to use them especially if working for long hours, to avoid a potential infection by touching the face with the hands.
The cost of the face shields, which weigh only 25 grams, is quite low. Moreover, the shields which were tested by some clinicians do not leave an uncomfortable feeling on the skin after long hours of usage.
Dr. Arif Engin Çetin said "Our laboratory continues to produce these face shields in order to be able to send them to the locations that may need them in the Izmir area. We supply these face shields, which we produce using internal IBG budget, for free for healthcare providers. I believe that producing these supplies with low cost will enable healthcare providers to change them frequently and create a more sterile environment."
IBG security personnel are also using these face shields during their work hours. Additionally, laboratory researchers and employees taking part in Covid-19 research projects will start to use these shields soon.