IBG DIRECTOR PROF. MEHMET ÖZTÜRK RECEIVES THE "DISTINGUISHED GRADUATE" AWARD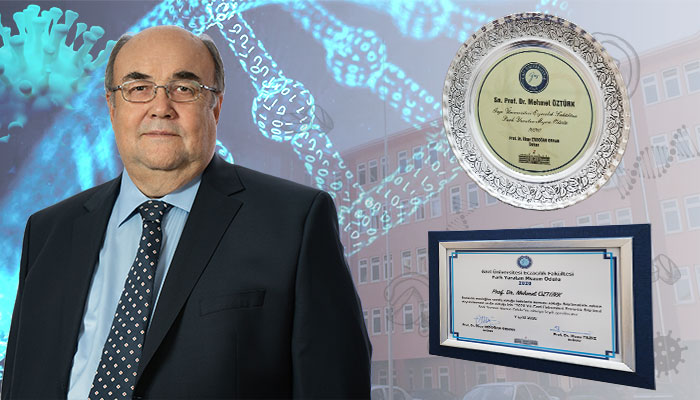 Since 2018, Gazi University Faculty of Pharmacy in Ankara has been awarding, each year, its outstanding graduates who are pioneers and make a difference in the fields of science and pharmacy.
This year, Prof. Dr. Mehmet ÖZTÜRK, the director of Izmir Biomedicine and Genome Center, was awarded with this distinguished award in a ceremony conducted online.
Gazi Üniversity Rector Prof. Dr. Musa YILDIZ also attended the award ceremony organised by the Faculty of Pharmacy, which has a fifty-two-year-old deep-rooted history and ten thousands of graduates. The ceremony started with the opening speech of Dean Prof. Dr. İlkay ERDOĞAN ORHAN, who also introduced the award-winning graduates. Then, Rector Prof. Dr. Yıldız delivered a speech indicating his gratitude for awarding the graduates, whose distinguished successes he follows with great honour and admiration.
The ceremony continued with the speech of Prof. Dr. Mehmet ÖZTÜRK, who said, "I have studied at Gazi Üniversity, Faculty of Pharmacy between 1971 and 1974. Then, I moved abroad to continue my studies there, thanks to the fellowship of the Turkish Ministry of Education. Throughout those years, it was always in my mind to come back to my country and pay back what I have received. I returned to Turkey in 1995, and I feel honoured to have served my country for the last 25 years.". After explaining how Turkey's first molecular biology and genetics department, that he founded in Bilkent University just after returning to Turkey, initiated a change and awareness on this scientific field in Turkey, he went on to talk about the start-up process and the philosophy of Izmir Biomedicine and Genome Center. He expressed that during the years he started up a new laboratory in an Inserm Unit in France, he observed the lack of research institutions in Turkey, and with this idea in mind, he set up IBG, in which researchers from different disciplines can gather and conduct research on an international level. Prof. Öztürk, who has achieved very important advances at IBG with his co-workers, said that, "Turkey's first OECD certified GLP Laboratories have been established at IBG. Thanks to this, we are not bound to other countries in performing the pre-clinical analyses essential to start the clinical phase studies for vaccine and drug candidates. Additionally, four biosimilars have been developed in IBG laboratories, and are ready for industrial production.". Then, he talked about IBG's efforts in developing a vaccine and drug candidates against Covid-19, as well as developing a kit prototype to test SARS-Cov2 antibodies. He finished his speech by expressing his appreciation to the academic administration and members of Gazi University Faculty of Pharmacy.
Along with Prof. Öztürk, Pharm. Dicle BALBAY, who is Director of Government Affairs at Servier and has a pioneering role in the foundation of drug production centers and the technology transfer of several drugs in Turkey, and Pharm. Esra ZENGİN, who has raised great awareness on the field of Health Coaching and Pharmacy in Turkey, were also awarded in the ceremony.