IBG RESEARCHERS RECEIVE 2020 PRESENS SENSORPLUG COMPETITION AWARD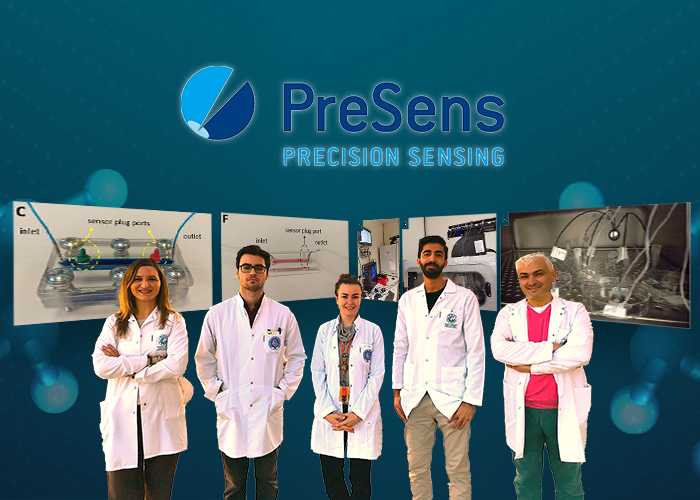 PreSens, a leading company in the field of optical sensors, announced the winner of the 2020 SensorPlug Competition.
The study of İzmir Biomedicine and Genome Center research group leaders Assoc. Prof. Sinan Güven, Assoc. Prof. Duygu Sağ and their students was awarded the first prize.
PreSens, a company started up within the Regensburg University in Germany, which brings together the long-term experiences of researchers in the fields of electronic engineering and sensor development, has been one of the leading companies in the field of chemical optical sensor technology since its establishment. Every year PreSens enables researchers to try out the SensorPlug technology, which they developed to measure O2, pH and CO2, in their lab studies and rewards one of these studies.
A project group formed by Assoc. Prof. Sinan Güven, group leader of IBG's Therapeutic Bioengineering Laboratory, Assoc. Prof. Duygu Sağ, group leader of IBG's Cancer Immunology Laboratory, PhD student Elifsu Polatlı, graduate students Resul Özbilgiç and İbrahim Halilullah Erbay and Alperen Yılmaz, undergraduate student from Ankara University Department of Biomedical Engineering, participated in this contest. They used the SensorPlugs technology to monitor pH and O2 changes during polarization of microglia cells in the microfluidic chip they designed. The technology developed at IBG creates an innovative platform for examining the connections of cell physiology with environmental oxygen and pH levels. The details and the results of this study can be found here. https://www.presens.de/knowledge/publications/application-note/a-microfluidic-platform-for-real-time-non-invasive-monitoring-of-microglia-polarization-1762
We congratulate the members of this project group.