Minister of Industry and Technology Mustafa Varank visited IBG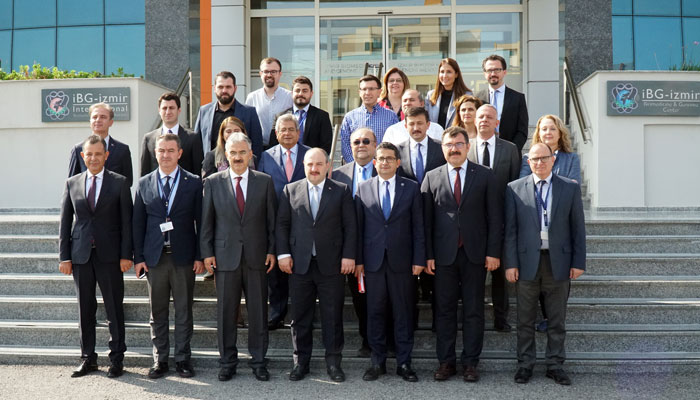 Minister of Industry and Technology Mustafa Varank, Izmir Deputy Hamza Dağ, President of TUBITAK Prof. Dr. Hasan Mandal, Izmir Governor Erol Ayyıldız and the Governor of Balçova Süleyman Özçakıcı visited IBG on Wednesday, 09 October 2019.
IBG Board Member and ESBAŞ CEO Dr. Faruk Güler, DEU (Dokuz Eylul University) Vice Rector Prof. Dr. Uğur Malayoğlu, Dean of DEU Faculty of Medicine Prof. Dr. Murat Cellioğlu, DEU Secretary General Prof. Dr. Saip Tiryakioğlu, Director of DEU GSHS (Graduate School of Health Sciences) Prof. Dr. Fatma Neslihan Emiroğlu and DEÜ İUBGE (Izmir International Biomedicine and Genome Institute) Director Prof. Dr. Sefa Kızıldağ; IBG Management and IBg Researchers participated the event.
Our Director Prof. Dr. Mehmet Öztürk made a presentation about the recent activities of IBG which is a Thematic Research Center within the scope of Law No. 6550 and gave information about the National Health Biotechnology Program of IBg. Later on, Dr. Soner Gündemir, Assistant Director of IBG, provided information about the preclinical drug analysis unit, which is in the process of GLP certification with local biotechnological drugs developed within the scope of "IBG-Farma Platform". After the meeting, the Minister visited IBG-Farma Platform, examined the laboratory studies closely and left IBG with wishes of success.
For Media link:
Beyaz Gazete