6TH INTERNATIONAL CONGRESS OF THE MOLECULAR BIOLOGY ASSOCIATION OF TURKEY WAS HELD AT IBG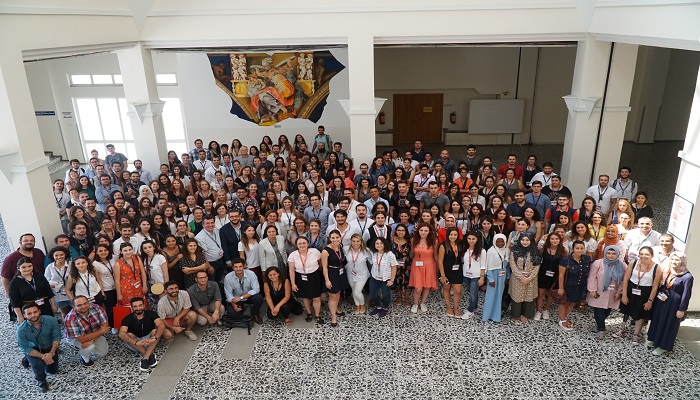 6TH INTERNATIONAL CONGRESS OF THE MOLECULAR BIOLOGY ASSOCIATION OF TURKEY WAS HELD AT IBG
This year, the International Congress of the Molecular Biology Associaton was held at Izmir Biomedicine and Genome Center (IBG) under the chairmanship of Assoc. Dr. Guneş Ozhan. During the 4-day congress, recent updates in molecular biology and life science were discussed, and researches in Turkey were presented.
The Molecular Biology Association, which was established in 2011, aims to congregate molecular biologists in Turkey and other countries in order to improve biotechnological and life science activities. The Molecular Biology Congress is a noteworthy congress, which hosts several researchers from abroad to connect them with students and companies to discuss new findings and introduce them to new technologies.
IBG, which hosted MolBioKon 18, is located on the campus of Dokuz Eylul University, Balçova. It was established in 2017 within the scope of Law No. 6550 as a 'Center of Excellence', and is the first thematic research center conducting studies on life sciences and health biotechnologies.
The opening remarks of the congress were delivered by Prof. Dr. Mehmet Ozturk, one of the founding members of the Molecular Biology Association and IBG, while Prof. Dr. Simon Davis, Prof. Dr. Eithan Galun, Prof. Dr. Jonathan M. Scholey and Prof. Dr. Aslı Tolun were the keynote speakers. In addition, a further 16 speakers participated in the congress from different counties such as USA, England, Germany, Netherlands and Sweden. The total number of the participants exceeded 350. Among the topics highlighted as research areas of this year's congress were micro RNA, motor proteins, immune receptors, disease genetics, CRISPR technology, single cell biology, epigenetic, bioinformatics, computational biology, and cell display.
This year's 'Molecular Biology Association Ph.D. Award' was given to Secil Demirkol from Bilkent University with her Ph.D. thesis entitled "Prognosis and treatment response prediction on gastrointestinal cancers" with Assoc. Prof. Ali Osmay Gure as the advisor. Moreover, 6 'Best Poster' awards were given to Harun Cingoz from Middle East Technical University (Advisor: Prof. Dr. Elif Erson Bensan), Metehan Ilter from Medipol University, Eda Acikgoz from Ege University (Advisor: Prof. Dr. Gulperi Oktem), Esra Katkat from IBG (Advisor: Assoc. Prof. Gunes Ozhan), Soheli Akbari from IBG (Advisor: Prof. Dr. Esra Erdal) and Yigit Kocagoz from Bogazici University (Advisor: Assoc. Prof. Stefan Fuss).
Furthermore, various career opportunities such as research support programs and research platforms, which are of great interest to molecular biologist, were discussed.
As IBG, we would like to thank Assist. Prof. Zeynep Kocer, Dr. Serap Erkek, Assoc. Prof. Yavuz Oktay, Assoc. Prof. Serif Senturk, Assist. Prof. Ezgi Karaca, Assoc. Prof. Umut Sahin, Prof. Dr. Nesrin Ozoren, Yagmur Toktay, Silan Coskun, Ozge Cark, Yavuz Mercan, Asli Kurden, Aybike Erdogan, Deniz Dogan, Ece Cakıroglu, Tulay Karakulak, Dr. Ozlem Dalan, Hakan Ozler, Berrak Sohtorik, Cumhur Dogan and all other IBG students and employees for their contributions.