NEW ARTICLE ON A HANDHELD BIOSENSOR FOR VIRUS DETECTION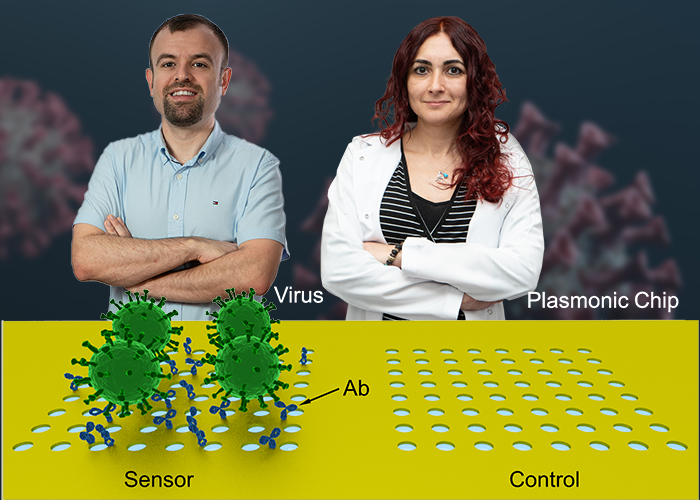 The article on a handheld plasmonic biosensor for virus detection in field-settings, developed by Dr. Arif ÇETİN and his collaborators, was published in the journal Sensors and Actuators B: Chemical.
The global outbreak of COVID-19 reminded us the importance of rapid and practical viral diagnostic kits. To develop a rapid diagnostic tool in field-settings; Dr. Arif Engin ÇETİN, group leader of the Nanophotonics and Biodetection Systems Lab at IBG, collaborated with Dr. Zeynep KOÇER, group leader of the Emerging Viral Diseases Lab at IBG, and Assoc. Prof. Seda Nur TOPKAYA from the Department of Analytical Chemistry at Izmir Katip Celebi University. The research group involved Ziya Ata YAZICI, undergraduate student at the Department of Biomedical Engineering at TOBB University of Economics and Technology, as well. The researchers introduced a lightweight biosensor, employing a plasmonic chip based on nanohole arrays integrated to a lens-free imaging framework for label-free detection of viruses in field-settings.
As an example for the applicability of the biosensor for virus detection, they could successfully demonstrate the label-free detection of H1N1 viruses, e.g., swine flu, with medically relevant concentrations. They also developed a low-cost and easy-to-use sample preparation kit to prepare the surface of the plasmonic chip for analyte binding, e.g., virus-antibody binding, as well as a user-friendly graphical user interface (GUI).
The rapid diagnosis may be an important asset to prevent the spread of diseases before turning into a pandemic. This biosensor developed in the IBG Labs could be a very strong candidate for diagnostic applications in resource-poor settings, detecting different viral diseases, e.g., COVID-19 or influenza.