Zebrafish is a widely used, robust vertebrate model that is accessible for genetic modification, well suited for imaging, easy to manipulate, has a short generation time and low cost. Zebrafish has been increasingly used for disease modeling and cancer studies, and it has come forward as an attractive model for drug discovery and personalized medicine studies in recent years. Our group aims to develop novel zebrafish models and technology that will contribute to the zebrafish reseach mainly in the field of disease research and personalized medicine.

CANCER MODELS:
Zebrafish tumors are strikingly similar to human tumors both genetically and pathologically. We generate zebrafish "humanized tumors" by overexpression of human oncogenes in selected tissues such as melanocytes and liver. Various genetic tools allow us to create time and space controlled expression of such oncogenes, in significantly shorter time and reduced cost than rodent models. Xenotrasnplantation of human cancer cells to zebrafish host is another technology we use to facilitate cancer studies. We apply and improve this technology to study cancer metastasis, angiogenesis and drug response. In long term we aim to develop robust patient derived xenografts (PDX) methodology and use it as a tool for personalized medicine in collaboration with local oncologists.
RARE DISEASE MODELS:
Zebrafish offers several advantages for rare disease modeling, and drug discovery. We are using CRISPR/Cas9 technology to generate mutations in disease genes. We collaborate with clinicians to generate genetic models of rare diseases in zebrafish. We are particularly interested in diseases that are more common in Turkey due to consanguinity.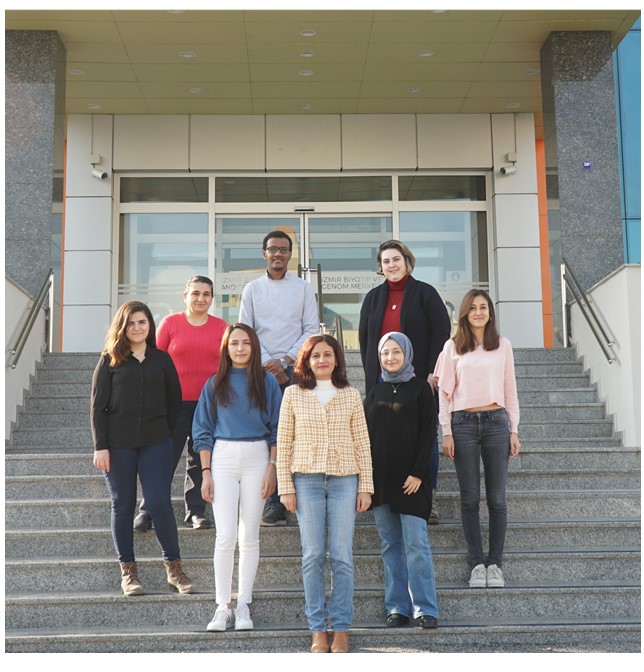 Cakan Lab. on Zebrafish Models
Arslan M, Karadag M, Onal E, Gelinci E, Cakan-Akdogan G, Kalyoncu S. Effect of non-repetitive linker on in vitro and in vivo properties of an anti-VEGF scFv.. Scientific reports. 2022 March ; 12 (1) : 5449. doi:10.1038/s41598-022-09324-4. Download
Yasar Akdogan, Sumeyra Cigdem Sozer , Cansu Akyol , Merve Basol , Cigdem Karakoyun, Gulcin Cakan-Akdogan*. Synthesis of albumin nanoparticles in a water-miscible ionic liquid system, and their applications for chlorambucil delivery to cancer cells. Journal of Molecular Liquids. 2022 December ; 367 (Part B) : 120575. doi:https://doi.org/10.1016/j.molliq.2022.120575. Download
Evin Iscan, Umut Ekin, Gokhan Yildiz, Ozden Oz, Umur Keles, Aslı Suner, Gulcin Cakan-Akdogan, Gunes Ozhan, Marta Nekulova, Borivoj Vojtesek, Hamdiye Uzuner, Gökhan Karakülah, Hani Alotaibi and Mehmet Ozturk. TAp73β Can Promote Hepatocellular Carcinoma Dedifferentiation. Cancers. 2021 February ; 13 (4) : 783. doi:10.3390/cancers13040783. Download
Saniye Gul Kaya, Seniz Inanc-Surer, Gulcin Cakan-Akdogan, Gulgun Oktay, Canan Asli Utine, Sibel Kalyoncu. Roles of matrix metalloproteinases in the cornea: A special focus on macular corneal dystrophy. Medicine in Drug Discovery. 2021 September ; 11 : 100095. doi:https://doi.org/10.1016/j.medidd.2021.100095. Download
Gurer DC, Erdogan İ, Ahmadov U, Basol M, Sweef O, Cakan-Akdogan G, Akgül B. Transcriptomics Profiling Identifies Cisplatin-Inducible Death Receptor 5 Antisense Long Non-coding RNA as a Modulator of Proliferation and Metastasis in HeLa Cells.. Frontiers in cell and developmental biology. 2021 August ; 9 : 2248. doi:10.3389/fcell.2021.688855. Download
Sumeyra Cigdem Sozer, Tugce OZmen Egesoy, Merve Basol, Gulcin Cakan-Akdogan, Yasar Akdogan. A simple desolvation method for production of cationic albumin nanoparticles with improved drug loading and cell uptake. Journal of Drug Delivery Science and Technology. 2020 December ; 60 : 101931. doi:10.1016/j.jddst.2020.101931. Download
Topel H, Bagirsakci E, Comez D, Bagci G, Cakan-Akdogan G, Atabey N. lncRNA HOTAIR overexpression induced downregulation of c-Met signaling promotes hybrid epithelial/mesenchymal phenotype in hepatocellular carcinoma cells.. Cell communication and signaling : CCS. 2020 July ; 18 (1) : 110. doi:10.1186/s12964-020-00602-0. Download
Begüm Demirkurt, Gulcin Cakan-Akdogan, Yasar Akdogan. Preparation of albumin nanoparticles in water-in-ionic liquid microemulsions. Journal of Molecular Liquids. 2019 December ; 295 : 117713. doi:10.1016/j.molliq.2019.111713. Download
Aysim Gunes, Ezgi Bagirsakci, Evin Iscan, Gulcin Cakan-Akdogan, Umut Aykutlu, Serif Senturk, Gunes Ozhan, Esra Erdal, Deniz Nart, Funda Yilmaz Barbet, Nese Atabey. Thioredoxin interacting protein promotes invasion in hepatocellular carcinoma. Oncotarget. 2018 ; 9 (96) : 36849-36866. doi:10.18632/oncotarget.26402. Download
Moraru A, Cakan-Akdogan G, Strassburger K, Males M, Mueller S, Jabs M, Muelleder M, Frejno M, Braeckman BP, Ralser M, Teleman AA. THADA Regulates the Organismal Balance between Energy Storage and Heat Production. Developmental cell. 2017 April ; 41 (1) : 72-81.e6. doi:10.1016/j.devcel.2017.03.016. Download
Akdogan Y, Emrullahoglu M, Tatlidil D, Ucuncu M, Cakan-Akdogan G. EPR studies of intermolecular interactions and competitive binding of drugs in a drug-BSA binding model. Physical chemistry chemical physics : PCCP. 2016 August ; 18 (32) : 22531-9. doi:10.1039/c6cp04137j. Download
Karakus, Erman; Cakan-Akdogan, Gulcin; Emrullahoglu, Mustafa. A guanidinium modified rhodamine-based fluorescent probe for in vitro/vivo imaging of gold ions. ANALYTICAL METHODS. 2015 ; 7 (19) : 8004-8008. doi:10.1039/c5ay01581b. Download
Pallares-Cartes C, Cakan-Akdogan G, Teleman AA. Tissue-specific coupling between insulin/IGF and TORC1 signaling via PRAS40 in Drosophila. Developmental cell. 2012 January ; 22 (1) : 172-82. doi:10.1016/j.devcel.2011.10.029. Download
Lecaudey V, Cakan-Akdogan G, Norton WH, Gilmour D. Dynamic Fgf signaling couples morphogenesis and migration in the zebrafish lateral line primordium. Development (Cambridge, England). 2008 August ; 135 (16) : 2695-705. doi:10.1242/dev.025981. Download
Total : 14
Merve Arslan, Gulcin Cakan-Akdogan, Sibel Kalyoncu 2019, 'Antibody Engineerıng Approaches on Vernier Zone Residues to Develop Biobetter Antibody Therapeutics for Cancer Treatment', 2nd International Cancer & Ion Channels Congress, İzmir, Sept. 22, 2019 .
Total : 1
The Scientific and Technological Research Council of Turkey - TUBITAK - RD : Development of next-generation recombinant antibody fragments against VEGF for cancer therapy., Ongoing
The Scientific and Technological Research Council of Turkey - TUBITAK - RD : Target Specific Pan-Cancer Therapies (PAN-TER), Ongoing
The Scientific and Technological Research Council of Turkey - TUBITAK - RD : Investigation of the role of HGF/c-Met Pathway in tumor microenvironment during the progression of liver metastasis, Ongoing
The Scientific and Technological Research Council of Turkey - TUBITAK - RD : Su / iyonik sıvı mikroemülsiyonları içerisinde ilaç yüklü albümin nanoparçacıkların sentezi, karakte, Ongoing
The Scientific and Technological Research Council of Turkey - TUBITAK - RD : Zebra balığı mikroçevresinde meme ve melanoma kanseri hücrelerinin metastatik biyodağılımının haritalanması, Pre Submitted
Health Institutes of Turkey- TUSEB - RD : Zebrafish Patient Derived Xenograft Test for Personalized Medicine Applications in Ovarian Cancer Treatment, Funded, Not Started
We are looking for a motivated , hardworking , succesfull young postdoc to work on development of zebrafish based technologies/ platforms for drug testing, disease modeling, personelized medicine applications. Scholarship is available upto 18 months , with a possibility of extention.
Requirements:
*PhD degree in life sciences
*Experience and strong knowledge in 2 of the following : molecular biology (cloning , biochemical analysis methods) , cell biology , live imaging , zebrafish model.
*One first/co-first author publication.
If interested contact me via email . Send an application including ; cover letter , CV and undergraduate and graduate transcripts.