Neurodegenerative diseases are incurable and debilitating conditions that result in progressive degeneration of nerve cells. The primary research focus of our group is the molecular mechanism of neurodegeneration and neuroprotection. Through identification of the molecular mechanisms underlying neurodegeneration, we are trying to develop new strategies towards neuroprotection. On the other hand, we are trying to develop novel therapeutic agents for the treatment of neurodegenerative disorders. Our other aim is to identify potential diagnostic/prognostic biomarkers, especially for Alzheimer's disease. We also focus on the role of miRNAs in the biological and pathological process of the central nervous system.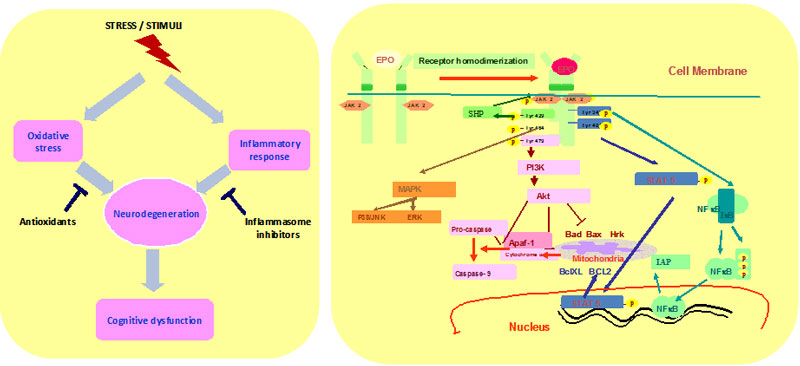 Our group investigate the molecular mechanisms that underlie cell death in neurodegeneration and neuroinflammation and assess novel strategies for neuroprotection. Erythropoietin, Lithium and anti-oxidant molecules (Sulforaphane, Resveratrol, Melatonin) will be used future research. We will also search anti-inflammatory effects of these molecules. In a currently funded project, we are looking the resveratrol effect on inflammasome activation in microglial cells. Inflammasome activation is one of the immune responses in innate immunity and it differs from classical immune responses. Both membrane-bound and cytosolic receptors contribute to this process. Besides microbes or microbial molecules, it has been known that metabolic stress products (uric acid crystals, ATP, etc.) and exogenous agents such as asbestos, silica can also trigger inflammasome activation. Inflammasome activation leads to activation of caspase-1, interleukin -1β (IL-1β) and interleukin -18 (IL-18) cytokine release from cells and inflammasome activation may also lead to pyroptotic cell death in the cell. For this reason, inflammasome activation should be prevented under such conditions. Alzheimer's disease (AD) represents the most common form of dementia. According to World Health Organization (WHO)'s report in 2012, more than 35 million individuals are affected by AD. Currently, there is no cure or any method that would prevent disease progression. The definitive diagnosis of AD can be made only in the postmortem period by examining the brain tissue during a biopsy. Screening of AD patients remains an expensive approach, and it is crucial that ongoing research in this field is focused on developing inexpensive and reliable methods towards early diagnosis of AD. We especially are searching miRNAs expression profile as a biomarker. MicroRNAs (miRNAs) are small, non-coding RNA molecules, which regulate various metabolic activities. Circulating miRNAs are promising candidates for blood-based biomarkers, given their high stability in circulation, tissue- and/or cell-specific expression and ease of miRNA analysis with existing methods (e.g. real-time PCR). Circulating serum miRNAs would be a good choice as biomarkers for neurological and psychiatric disorders. We are preparing a research proposal for miRNA expression profile as a biomarker in Alzheimer's disease.
Alzheimer's Disease (AD) and Parkinson's disease are the most common neurodegenerative diseases. Definitive diagnosis can only be established by pathological evaluation in post-mortem period. Therefore, there is a biomarker need for both definitive diagnosis and development of clinical observation. In recent studies, we developed standard operating procedures (SOPs) for pre-analytical and analytical procedures. We analyzed the performance of one recently released human-specific enzyme-linked immunosorbent assay (ELISA) for the quantification of alpha-synuclein in CSF. miRNAs have a major role in the biological and pathological process of the central nervous system. Apart from biomarker studies, we showed novel effects of two neuroprotective molecules. MicroRNA-451 and 888-5p mediate neuroprotective effects of Erythropoietin and neuroprotective effects of Lithium depends on miR-34a inhibition. In next future, miRNAs expression alternation could be a new therapeutic strategy for neurodegenerative disorders.
Genc Lab. on Neurodegeneration and Neuroprotection
Ceylan D, Tufekci KU, Keskinoglu P, Genc S, Özerdem A. Circulating exosomal microRNAs in bipolar disorder.. Journal of affective disorders. 2020 February ; 262 : 99-107. doi:10.1016/j.jad.2019.10.038.
Olcum M, Tastan B, Kiser C, Genc S, Genc K. Microglial NLRP3 inflammasome activation in multiple sclerosis.. Advances in protein chemistry and structural biology. 2020 January ; 119 : 247-308. doi:10.1016/bs.apcsb.2019.08.007.
Olcum M, Tastan B, Ercan I, Eltutan IB, Genc S. Inhibitory effects of phytochemicals on NLRP3 inflammasome activation: A review.. Phytomedicine : international journal of phytotherapy and phytopharmacology. 2020 August ; 75 : 153238. doi:10.1016/j.phymed.2020.153238.
Micili SC, Engür D, Genc S, Ercan I, Soy S, Baysal B, Kumral A. Oxygen exposure in early life activates NLRP3 inflammasome in mouse brain.. Neuroscience letters. 2020 November ; 738 : 135389. doi:10.1016/j.neulet.2020.135389.
Onur Bulut, Anıl Tanburoğlu, Gülşah Bölük, Nurhak Demir, Erden Eren, Ufuk Vurgun, Şermin Genç, Görsev Yener. Examination of IL-1β level as an inflammasome marker in Alzheimer's disease. Neurological Sciences and Neurophysiology. 2019 September ; 36 (3) : 141-147. doi:10.5152/NSN.2019.10324.
Arioz BI, Tastan B, Tarakcioglu E, Tufekci KU, Olcum M, Ersoy N, Bagriyanik A, Genc K, Genc S. Melatonin Attenuates LPS-Induced Acute Depressive-Like Behaviors and Microglial NLRP3 Inflammasome Activation Through the SIRT1/Nrf2 Pathway.. Frontiers in immunology. 2019 July ; 10 : 1511. doi:10.3389/fimmu.2019.01511.
Tufekci KU, Vurgun U, Yigitaslan O, Keskinoglu P, Yaka E, Kutluk K, Genc S. Follow-up Analysis of Serum TNF-Related Apoptosis-Inducing Ligand Protein and mRNA Expression in Peripheral Blood Mononuclear Cells from Patients with Ischemic Stroke. Front Neurol. 2018 March ; 9 : 102. doi:10.3389/fneur.2018.00102.
Ercan I, Tufekci KU, Karaca E, Genc S, Genc K. Peptide Derivatives of Erythropoietin in the Treatment of Neuroinflammation and Neurodegeneration. Advances in Protein Chemistry and Structural Biology. 2018 February ; 112 : 309-357. doi:10.1016/bs.apcsb.2018.01.007.
Genc B, Bozan HR, Genc S, Genc K.. Stem Cell Therapy for Multiple Sclerosis. Adv Exp Med Biol. 2018 July : 145-175. doi:10.1007/5584_2018_247.
Eren E, Tufekci KU, Isci KB, Tastan B, Genc K, Genc S.. Sulforaphane Inhibits Lipopolysaccharide-Induced Inflammation, Cytotoxicity, Oxidative Stress, and miR-155 Expression and Switches to Mox Phenotype through Activating Extracellular Signal-Regulated Kinase 1/2-Nuclear Factor Erythroid 2-Related Factor 2/Antioxidant Response Element Pathway in Murine Microglial Cells. Front Immunol. 2018 January ; 9 : 36. doi:10.3389/fimmu.2018.00036.
Alural B, Ayyildiz ZO, Tufekci KU, Genc S, Genc K. Erythropoietin Promotes Glioblastoma via miR-451 Suppression. Vitam Horm. 2017 ; 105 : 249-271. doi:10.1016/bs.vh.2017.03.002.
van Waalwijk van Doorn LJ, Gispert JD, Kuiperij HB, Claassen JA, Arighi A, Baldeiras I, Blennow K, Bozzali M, Castelo-Branco M, Cavedo E, Emek-Savaş .... Improved Cerebrospinal Fluid-Based Discrimination between Alzheimer's Disease Patients and Controls after Correction for Ventricular Volumes. J Alzheimers Dis. 2017 January ; 56 (2) : 543-555. doi:10.3233/JAD-160668.
Alural B, Genc S, Haggarty S.. Diagnostic and therapeutic potential of microRNAs in neuropsychiatric disorders: Past, present, and future. Progress in Neuro-Psychopharmacology and Biological Psychiatry. 2017 February ; 73 : 87-103. doi:10.1016/j.pnpbp.2016.03.010.
Gümürdü A., Yildiz R., Eren E., Karakülah G., Ünver T., Genç Ş. & Park Y.. MicroRNA exocytosis by large dense-core vesicle fusion. Scientific Reports. 2017 March ; 7 : 45661. doi:10.1038/srep45661.
Alural, Begum; Ozerdem, Aysegul; Allmer, Jens; Genc, Kursad; Genc, Sermin. Lithium protects against paraquat neurotoxicity by NRF2 activation and miR-34a inhibition in SH-SY5Y cells. FRONTIERS IN CELLULAR NEUROSCIENCE. 2015 May ; 9 . doi:10.3389/fncel.2015.00209.
Alural B, Duran GA, Tufekci KU, Allmer J, Onkal Z, Tunali D, Genc K, Genc S. EPO Mediates Neurotrophic, Neuroprotective, Anti-Oxidant, and Anti-Apoptotic Effects via Downregulation of miR-451 and miR-885-5p in SH-SY5Y Neuron-Like Cells. Frontiers in Immunology. 2014 September ; 5 : 475. doi:10.3389/fimmu.2014.00475.
Total : 16
Stem Cell-Based Approaches for Treatment of Glioblastoma (2017). Neurological Regeneration. Springer.
The Role of MicroRNAs in Biological Processes (2014). miRNomics: MicroRNA Biology and Computational Analysis. Humana Press.
The role of microRNAs in human diseases (2014). miRNomics: MicroRNA Biology and Computational Analysis. Humana Press.
Total : 3
Burak İbrahim Arıöz, Kemal Uğur Tüfekci, Devrim Yağmur Durur, Melis Olçum, Nurhan Özlü, Görsev Yener, Şermin Genç 2020, 'Alzheimer Hastalarının Nöron Kökenli Ekzozomlarının Proteomik Analizi', 3. Ulusal Proteomik Kongresi, İstanbul, Feb. 27, 2020 .
B. Tastan, B.I. Arioz, K.U. Tufekci, S. Genc 2019, 'Dimethyl Fumarate ameliorates NLRP3 inflammasome activation in murine microglia', The XIV European Meeting on Glial Cells in Health and Disease, Porto, Portugal, July 10, 2019 .
K.U. Tufekci, I. Ercan, B.I. Eltutan, S. Genc 2019, 'Microglial phenotypes are determined by variable intracellular hydrogen peroxide concentrations', The XIV European Meeting on Glial Cells in Health and Disease, Porto, Portugal, July 10, 2019 .
Total : 3
The Scientific and Technological Research Council of Turkey - TUBITAK - RD : Impact of Redox Signaling on Wnt/beta-catenin Dependant Microglial Polarization And Concomitant Neural Stem Cell Differentiation in Zebrafish And Three Dimentional Tissue Culture Models, Ongoing
Health Institutes of Turkey- TUSEB - RD : Nörolojik, Metabolik, Dejeneratif Hastalıklar için Biyolojik Örneklemin Oluşturulması, Funded, Not Started
The Scientific and Technological Research Council of Turkey - TUBITAK - RD : Alzheimer Hastalığında Eflamatuar Yanıtları Belirlemek İçin Doğrudan Dönüştürme Yoluyla Mononükleer Hücrelerden Kaynaklı Mikroglia, Ongoing
The Scientific and Technological Research Council of Turkey - TUBITAK - RD : Effects of polarized microglia derived exosomal miRNAs on neuronal differentiation, Ongoing
The Scientific and Technological Research Council of Turkey - TUBITAK - RD : In vivo and in vitro effects of bilirubin on NRLP3 inflammatory activation, Ongoing
The Scientific and Technological Research Council of Turkey - TUBITAK - RD : The Role of Long Noncoding RNA NEAT1 in Regulation of Microglial NLRP3 Inflammasome Activation, Ongoing
Medical Science Award by Eczacıbaşı, 2017
The Science Academy, Turkey, 2018