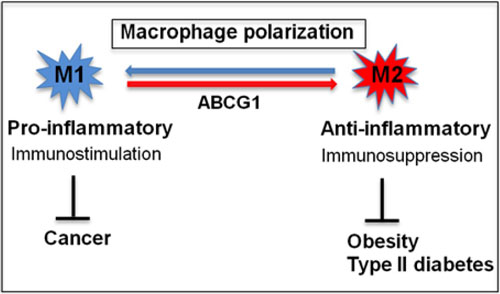 Metabolic and immune responses are the most basic and important survival requirements in multicellular organisms. Recent studies by us and others have uncovered the strong mutual influence of metabolism and macrophage inflammatory responses. Identifying the underlying mechanisms is a fascinating and vibrant novel research area and its findings will be critical for the design of therapeutic treatments for both metabolic and inflammatory diseases.
Our several current projects investigate the role of ATP-binding Cassette Transporter G1 (ABCG1) in macrophage polarization and inflammatory diseases. ABCG1 promotes cholesterol efflux from cells and regulates intracellular cholesterol homeostasis, which is crucial for survival and function of cells. We have recently made the novel discovery that absence of ABCG1 in macrophages inhibits tumor growth, metastasis and prolongs survival of mice through the modulation of macrophage function within the tumor. In particular, in the absence of ABCG1, the tumor-associated macrophages shift from a tumor-promoting M2 (anti-inflammatory) to a tumor-fighting M1 (proinflammatory) phenotype (Sag et al, Nature Communications, 2015).
Our goal is to (1) uncover the molecular mechanisms through which ABCG1-deficiency shifts macrophages to a tumor fighting M1 phenotype and (2) investigate the role of ABCG1 in macrophage polarization in humans, particularly in human cancer.
Furthermore, we aim to investigate the impact of macrophage ABCG1 deficiency on other diseases in which macrophages play a key role, such as type II diabetes and obesity.
Sag Lab. on Cancer Immunology
Eskiocak YC, Ayyildiz ZO, Gunalp S, Korkmaz A, Helvaci DG, Dogan Y, Sag D, Wingender G. The Ca2+ concentration impacts the cytokine production of mouse and human lymphoid cells and the polarization of human macrophages in vitro.. PloS one. 2023 February ; 18 (2) : e0282037. doi:10.1371/journal.pone.0282037. Download
Yakubogullari N, Cagir A, Bedir E, Sag D. Astragalus Saponins, Astragaloside VII and Newly Synthesized Derivatives, Induce Dendritic Cell Maturation and T Cell Activation. Vaccines. 2023 February ; 11 (3) : 495. doi:10.3390/vaccines11030495. Download
Gunalp S, Helvaci DG, Oner A, Bursalı A, Conforte A, Güner H, Karakülah G, Szegezdi E, Sag D. TRAIL promotes the polarization of human macrophages toward a proinflammatory M1 phenotype and is associated with increased survival in cancer patients with high tumor macrophage content.. Frontiers in immunology. 2023 September ; 14 : 1209249. doi:10.3389/fimmu.2023.1209249. Download
Unuvar Purcu D, Korkmaz A, Gunalp S, Helvaci DG, Erdal Y, Dogan Y, Suner A, Wingender G, Sag D. Effect of stimulation time on the expression of human macrophage polarization markers.. PloS one. 2022 March ; 17 (3) : e0265196. doi:10.1371/journal.pone.0265196. Download
Korkmaz A, Sag D. Medicinal Plant Tinaspora Cordifolia Polarizes Primary Human Macrophages into an M1 Phenotype. Turkish Journal of Immunology. 2022 April ; 10 (1) : 34-45. doi:10.4274/tji.galenos.2022.70783. Download
Sag D, Ayyildiz ZO, Gunalp S, Wingender G. The Role of TRAIL/DRs in the Modulation of Immune Cells and Responses.. Cancers. 2019 September ; 11 (10) : 1469. doi:10.3390/cancers11101469. Download
Duygu Sag, Müge Özkan, Mitchell Kronenberg & Gerhard Wingender. Improved Detection of Cytokines Produced by Invariant NKT Cells. Sci Rep. 2017 November ; 7 (1) : 16607. doi:10.1038/s41598-017-16832-1. Download
Wingender G, Sag D, Kronenberg M. NKT10 cells: a novel iNKT cell subset. Oncotarget. 2015 September ; 6 (29) : 26552-26553. doi:10.18632/oncotarget.5270. Download
Wingender, Gerhard; Birkholz, Alysia M.; Sag, Duygu; Farber, Elisa; Chitale, Sampada; Howell, Amy R.; Kronenberg, Mitchell. Selective Conditions Are Required for the Induction of Invariant NKT Cell Hyporesponsiveness by Antigenic Stimulation. JOURNAL OF IMMUNOLOGY. 2015 October ; 195 (8) : 3838-3848. doi:10.4049/jimmunol.1500203. Download
Hanna, Richard N.; Cekic, Caglar; Sag, Duygu; Tacke, Robert; Thomas, Graham D.; Nowyhed, Heba; Herrley, Erica; Rasquinha, Nicole; McArdle, Sara; Wu, Runpei; Peluso, Esther; Metzger, Daniel; Ichinose, Hiroshi; Shaked, Iftach; Chodaczek, Grzegorz; Biswas, Subhra K.; Hedrick, Catherine C.. Patrolling monocytes control tumor metastasis to the lung. SCIENCE. 2015 November ; 350 (6263) : 985-990. doi:10.1126/science.aac9407. Download
Sag D, Cekic C, Wu R, Linden J, Hedrick CC. The cholesterol transporter ABCG1 links cholesterol homeostasis and tumour immunity.. Nature communications. 2015 February ; 6 : 6354. doi:10.1038/ncomms7354. Download
Zhu YP, Brown JR, Sag D, Zhang L, Suttles J. Adenosine 5'-monophosphate-activated protein kinase regulates IL-10-mediated anti-inflammatory signaling pathways in macrophages.. Journal of immunology (Baltimore, Md. : 1950). 2015 January ; 194 (2) : 584-94. doi:10.4049/jimmunol.1401024. Download
Sag D, Krause P, Hedrick CC, Kronenberg M, Wingender G. IL-10-producing NKT10 cells are a distinct regulatory invariant NKT cell subset.. The Journal of clinical investigation. 2014 September ; 124 (9) : 3725-40. doi:10.1172/JCI72308. Download
Cekic C, Day YJ, Sag D, Linden J. Myeloid expression of adenosine A2A receptor suppresses T and NK cell responses in the solid tumor microenvironment.. Cancer research. 2014 December ; 74 (24) : 7250-9. doi:10.1158/0008-5472.CAN-13-3583. Download
Cekic C, Sag D, Day YJ, Linden J. Extracellular adenosine regulates naive T cell development and peripheral maintenance.. The Journal of experimental medicine. 2013 November ; 210 (12) : 2693-706. doi:10.1084/jem.20130249. Download
Cekic C, Sag D, Li Y, Theodorescu D, Strieter RM, Linden J. Adenosine A2B receptor blockade slows growth of bladder and breast tumors.. Journal of immunology (Baltimore, Md. : 1950). 2012 January ; 188 (1) : 198-205. doi:10.4049/jimmunol.1101845. Download
Sag D, Wingender G, Nowyhed H, Wu R, Gebre AK, Parks JS, Kronenberg M, Hedrick CC. ATP-binding cassette transporter G1 intrinsically regulates invariant NKT cell development.. Journal of immunology (Baltimore, Md. : 1950). 2012 December ; 189 (11) : 5129-38. doi:10.4049/jimmunol.1201570. Download
Cekic C, Casella CR, Sag D, Antignano F, Kolb J, Suttles J, Hughes MR, Krystal G, Mitchell TC. MyD88-dependent SHIP1 regulates proinflammatory signaling pathways in dendritic cells after monophosphoryl lipid A stimulation of TLR4.. Journal of immunology (Baltimore, Md. : 1950). 2011 April ; 186 (7) : 3858-65. doi:10.4049/jimmunol.1001034. Download
Sag D, Carling D, Stout RD, Suttles J. Adenosine 5'-monophosphate-activated protein kinase promotes macrophage polarization to an anti-inflammatory functional phenotype.. Journal of immunology (Baltimore, Md. : 1950). 2008 December ; 181 (12) : 8633-41. doi:10.4049/jimmunol.181.12.8633. Download
Total : 19
The Scientific and Technological Research Council of Turkey - TUBITAK - RD : Role Of The Cholesterol Transporter ABCG1 İn Tumor-Associated Macrophages In Mice And Humans, Finished
European Union - RD : Death Receptor Signalling in Tumour Immune Editing, Ongoing
The Scientific and Technological Research Council of Turkey - TUBITAK - RD : The Impact of TRAIL on M1, M2a and M2c Polarization of Primary Human Macrophages, Finished
The Scientific and Technological Research Council of Turkey - TUBITAK - RD : Generation of Osteogenic Niche Under Dynamic Culture Conditions with Microfluidic Bioreactors, Finished
The Scientific and Technological Research Council of Turkey - TUBITAK - RD : Kornea Endoteli Dokusunun Kök Hücre ve Biyomühendislik Yaklasımlarıyla Geliştirilmesi, Ongoing
The Scientific and Technological Research Council of Turkey - TUBITAK - RD : Küçük Hücreli Akciğer Kanserine Karşı Kişiye Yönelik Tedavi Geliştirmek için Hastalardan Türetilen Zenograftların Model Olarak Kullanılması, Ongoing
DEÜ BAP - Dokuz Eylul University Scientific Research Projects Coordination Unit - RD : Kolestrolün Makrofaj Polarizasyonuna Etkisi ve Mekanizması, Finished
Science Academy - RD : The Impact of ABCG1 Expression in Macrophages on Macrophage Phenotype and Development of Bladder Cancer in Humans, Finished
L'Oreal UNESCO Turkey - RD : The Molecular Mechanism of the Switch of ABCG1-deficient Macrophages Towards a Tumor-Fighting M1 Phenotype, Finished
L'Oreal UNESCO International - RD : The Molecular Mechanism of the Switch of ABCG1-deficient Macrophages Towards a Tumor-Fighting M1 Phenotype, Finished
Turkish Academy of Sciences (TÜBA) - RD : Investigation of ATP-binding Cassette Transporter G1 in Human Macrophages as a Candidate Target Molecule for Immunotherapy, Ongoing
The Scientific and Technological Research Council of Turkey - TUBITAK - RD : Video-immunotherapy: A new approach in breast cancer treatment, Ongoing
Best Poster Award-2nd Place-Derya Göksu Helvacı by Cell Death Research Society, Turkey, 2022
2020 Woman Making a Difference Award by Bursa Businesswomen and Executives Association (BUIKAD), 2020
Best Poster Award-Asli Korkmaz by Turkish Society of Immunology, 2020
Best Poster Award-Duygu Unuvar Purcu by Turkish Society of Immunology, 2020
METU Parlar Foundation Research Incentive Award by METU Prof. Mustafa N. Parlar Education and Research Foundation, 2019
Best Paper Award by Trailblazers in Oncology Summit, 2019
International Rising Talent Award by L'Oréal UNESCO, 2018
Young Scientist (BAGEP) Award by Science Academy, 2018
Young Investigator (GEBİP) Awards by Turkish Academy of Sciences (TÜBA), 2018
Işıl Berat Barlan Women Scientist Award by Turkish Society of Immunology, 2017
L'Oréal & UNESCO Turkey National Women in Science Award by L'Oréal UNESCO, 2017
International Rising Talents Candidate of Turkey by L'Oréal UNESCO, 2017
2236 Co-Funded Brain Circulation Scheme by Marie Curie, 2015